Message in a Bottle (3)
Welcome to Message in a Bottle (3), the a store for the material in the third Flotsam and Jetsam e-Newsletter from Farnham U3A.
It doesn't matter if you deleted the e-Newsletter – the important bits are here!
Groups on the go:
First, a word from Mr Groups,
Well done to all on your creative solutions for keeping groups active during lock-down. ZOOM seems to be the favourite for video conferencing, with a dozen or so using it for regular meetings. One group leader hosted a meeting of 35 last week – perhaps a Farnham U3A record? A bonus of our new skill with this 'app' is our ability to keep in touch with friends and families. I find Zoom straight-forward to use and encourage more groups to try it. If you need help to 'have a go' as a trial or regular basis, please let me know or page down to the Resources section for a help document.
Other groups, including books, poetry and some languages, are finding that conventional emails better enable them to continue their syllabuses from home. The recently introduced group leader's Beacon module is particularly useful for these groups.  Finally, if you are a group leader or secretary not currently using the Beacon system, now is a really good time to get your group into the "Beacon Club". Once again, I can help if needed.
Psychology Group
Leader Pamela Clayton usually presents something topical (supported by research, expert opinion and views) and then opens up a group discussion. To maintain some connection during lock-down Pamela now emails her notes. The most recent are about home schooling.  The work of Maria Montessori is fascinating, and very relevant to many of our children and grandchildren – to receive the notes please email
Astronomy at Large
Members have been emailed with suggestions to avoid a personal black hole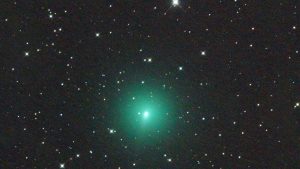 during lock-down. Member John Bryant shared an article from The Times about Comet Atlas visible during this Spring and closest to earth on 23 May. There's also plenty to fascinate on the BBC iPlayer with 30 episodes of Cosmic Quest – originally broadcast on Radio 4 Extra. And if you are trying to cut down on screen time, just stick your head outside at night – with so much less light pollution the night sky is just beautiful.
Songwriting Group
They're meeting using Zoom where they share the latest music related gossip, perform songs, lyrics, and tunes they've written at home whilst locked down.
They've been inspired us to put together a 'You Tube' video here.
World History
The group is meeting via Zoom every two weeks. If members have to isolate for an extended period, they aim to continue past the normal end of the Summer term with a programme of talks through the summer.
Judith Edge's talk called 'Victorian Philanthropy and its Legacy' has been published – click here
Don't forget to email your editors about news of your groups. We'll give you a mention here. Click here to email
A word from the wise
If it sounds too good to be true it usually is – report anything that looks like a fraud or a scam to click here or phone 0300 123 2040.
If you need help with anything contact those you can trust or the Farnham & Villages Coronavirus Helpline on 01252 745446 (Monday-Friday from           9 am-6 pm) or email to help@farnhammaltings.com
Things to do from home
Armchair Travel
Want to research a holiday, re-live somewhere you've already been, or see inside Captain Scott's Antarctic hut?  You can travel the world whilst sat at home with Instant Street View it's a variant of the Street View that comes with Google Earth.
Petite Cuisine
These 'Tiny Kitchen' videos on You Tube which show you how to cook in a dolls house sized kitchen:
Couch Culture
Royal Albert Hall Home is a series of streamed concerts, often from performers own home, plus a number of archived performances.  More here
The Royal Opera House, Covent Garden's own series called #OurHouseToYourHouse streams performances which premiere on Friday evenings. More here
The National Theatre is offering premieres on Thursday evenings and available online for 7 days. More here
The musical interlude
Everything old is new again and the Sound of Music has had a creative Coronavirus makeover by Shirley Serban in New Zealand. Filmed long before Social Distancing became the norm the reimagined  Doh, Ray, Me is here 
Resources
We're all having to learn new skills with technology, hopefully we can help.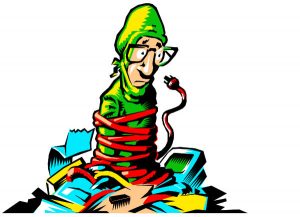 Please don't let it get to you like it got to Joe!
Surrey County libraries have extended their collection of e-books and e-audiobooks. Available to all Surrey library members – more here
The Zoom Guide below has helped members connect. Feel free to read it and circulate it to others. The guide was updated on 23rd April 2020.
Tip for joining an online meeting: please sort out the software and your computer / tablet / 'phone before the meeting. This is because the meeting host can't tutor you during the meeting!
Community Tips
The Town Council, along with the Maltings and the Farnham Herald, has produced a useful fact-sheet full of help and advice for residents of Farnham and villages which is worth printing.  Click here.
About this post:
The Farnham U3A site is found at Farnham U3A Home Page.
Please use this material to help you through the lock-down.
Posted by The MrT Podcast Studio for Farnham U3A – 2020