Message in a Bottle (8)
Welcome to Message in a Bottle (8), the a store for the material in the eighth Flotsam and Jetsam e-Newsletter from Farnham U3A.
It doesn't matter if you deleted the e-Newsletter – the important bits are here!
From your editors:
I'll miss the pink tie!
For three months many of us tuned in to the daily Government briefings.

We got to know Chris Whitty, Patrick Vallance and their teams, calmly telling us about the situation. Some also marvelled at Matt Hancock's never-ending supply of pink ties – or maybe he only has one.
We're now able to have more contact, and can soon visit a pub. On 6th July Farnham Library re-opens. Whether borrowing a book or shopping in Farnham we can remain 'socially distanced' using the newly widened pavements. Their introduction means that HGVs can't take a short cut through the town centre and has jump started the proposals to reduce the town's pollution problem. Let's hope it's a success and continues after the trial period.
Life in Lockdown – how is it for you
It has been a long and winding road since the 23rd March – lockdown has given new meaning to the good, the bad and the ugly.  This is your chance to join the Farnham U3Aers who've participated in our quick survey of how you've fared in lockdown.  It's simple and anonymous – click here now .  The survey results will be published in the summer.
Groups on the go: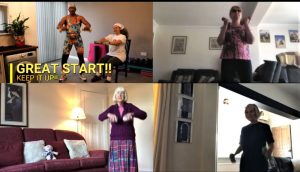 U3A groups around the country have maintained their activities online – from Ballroom dancing to sign language and everything in between – pour yourself a cuppa or a cool drink and take a U3A tour around the country here. 
Wine For Fun
Wine For Fun 2's enthusiastic leader Jane Moberly has produced another set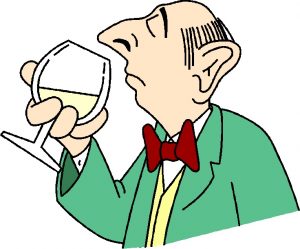 of Sips & Tips for all those who enjoy an occasional glass of the fermented grape juice. You can find the full write up here. If you missed English Wine Week last week you can probably still find many of the wines mentioned. If you are not a member of the group and want to receive future Sips & Tips just email Jane at janemoberly@gmail.com
World History Group
The group is continuing its programme of fortnightly talks on Zoom. Currently on Mondays at 10 am the programme runs to Christmas. The length of the talks varies but are usually about an hour plus some time for discussion.  The exact title of some talks may change and if a speaker is unable to give the talk, we will do our best to find a substitute.  You can view our programme to Christmas 2020 by clicking here. If you are not a member but are interested in joining us on Zoom please email themrtstudio@outlook.com for details.
Group Leaders
Please keep us updated about your socially distanced programme so we can give you a plug here.
Armchair Culture
The National Gallery
You don't need to take a train to Waterloo and the tube to Charing Cross as you can visit the gallery from the comfort of your chair. They suggest that if you bring the tea they'll provide the art take a look at.
Maybe you prefer the Tate
Follow this link and find out what's on offer. You can use the Artists A-Z to find pictures by artists you like, use Play, Make, Explore for activities in Tate Kids, take a virtual Walk through British Art or, maybe, go Into the Studio to investigate the processes artists use to make artworks.
Take the opportunity to delve into 78,000 artworks, 4,000 artists and 22,000 archive items.
The Imperial War Museum
Although the museum is closed at the moment you can still visit the collections. There are thousands of photographs and other items from 1914 to the present day. Find out more at.
The London Transport Museum
Joe loves to visit this museum in Covent Garden. If you click here you'll find out how to make you own moquette (that's the name for the covering used on bus and tube seats) or make your own Routemaster or tube train or taxi ……….
Activities to keep both you and the younger generations entertained and busy.
The National Theatre
The National Theatre has extended its season of streamed performances again, each one is only available for seven days. You can see:
A Midsummer Night's Dream – an immersive production of Shakespeare's comedy is available until Thursday 2nd July at 6.59 p.m.
Les Blancs, the final play by Lorraine Hansberry premiers on Thursday 2nd July at 7 p.m.
Terrence Rattigan's The Deep Blue Sea premieres at 7 p.m. on Thursday 9th
From 7.00 p.m. on Thursday 16th July you'll be able to see the National Theatre production of Amadeus.
The link to the National Theatre at Home is here.
Talking Heads by Alan Bennett
The BBC have updated this series of monologues and you can catch up with them on the BBC's iPlayer.
Sport
Live Football has returned to our screens and no doubt some of us are looking forward to socially distanced Croquet.
Sadly, whilst some of the summer favourites have been cancelled, Wimbledon has some videos at  and BBC Sport has over 50 hours of programmes over the 2 week Wimbledon period including an Andy Murray's Greatest Hits weekend on 4th (1.15 pm) and 5th (2.00 pm) July.
For those of you who love Cricket the BBC will have coverage of the England – West Indies matches from 8th July.
Helping children to read out loud:
Here's something we think might interest those of you who like to listen to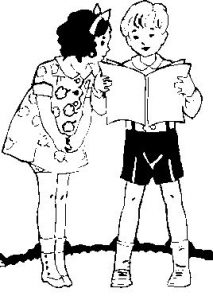 a story. Its also a way that you can help children improve their reading skills.
The concept – to bring children and listeners together. Using technology and a little organisation, Story Buddies Online is doing this. It can help sustain reading in schools whilst reaping huge mental health and wellness benefits for all involved.
It needs people to make it happen.  To help organise, to promote its activities and to listen to children read and help them to become better readers.
To find out more about the Scheme and how a Story Buddy could help children improve their reading skills from the comfort of their home, please contact us by clicking here. They'd love to hear from you.
Want to venture out?
Face Masks
In our last issue we told you about Face Masks and they may be now "a thing" for shopping. Remember, they are now compulsory both on all types of Public Transport and in Hospitals. If you didn't see the details in the last issue for making your own, we're giving them again – see:
Make your own – there are various websites that give all the information that you need, the BBC website has clear instructions or the UK Government website has details here.
Support a local – and gave you information about local sources such as Natty Tailoring in South Street, Farnham.
RHS Wisley
RHS Wisley
The gardens have reopened to visitors. You need to book your slot here as entry is only by pre-booking. Joe visited last week, his first outing since March, and had a really great time. Some of the vegetables seem to have suffered and none of the glasshouses were open but everyone was enjoying themselves.
On a lighter note
Musical Interludes
Doodle Chaos has set some amazing graphics to music. Just see how the animated tobogganers, apparently called 'line riders', react to Beethoven's Fifth Symphony here. It took the creator over 3 months to get the synchronisation right.
Doodle Chaos has also synchronised Les Toreadors from Bizet's Carmen here.
The Phoenix Chamber Choir from Vancouver have put together this virtual rendition of Billy Joel's For the longest time. Watch it here.
Watch out – there's a scam about
I've heard that people are getting phone calls from someone saying that they have traced through the NHS Track and Trace service as they've been in contact with someone with Covid 19.  The caller then asks for your bank details so that they can collect a £50 fee to cover the testing.
The Amazon Prime renewal scam is also back, some are receiving multiple calls a day. Find out more here.
Then there are the doorstep scams, follow this link to find out more about the activities of Rogue Traders, learn the truth about Hard Luck Stories, study the ID of Bogus Officials and send the Nottingham Knockers packing.
Friends Against Scams
You can become more aware and help others who've suffered by logging in to a short training course that is part of the National Trading Standards Scams Team's Friends Against Scams initiative. The link is here.
Remember, if it sounds too good to be true it usually is – report anything that looks like a fraud or a scam to Action Fraud online or phone 0300 123 2040
If you need help with anything contact those you can trust or the Farnham & Villages Coronavirus Helpline on 01252 745446 (Monday-Friday from 9am-6pm) or email to help@farnhammaltings.com
And finally, before you go
Don't forget to do the survey, it really will help us understand how you've fared over the past few months.  It's simple and anonymous – click here now.   
And a big thank-you from Flo and Joe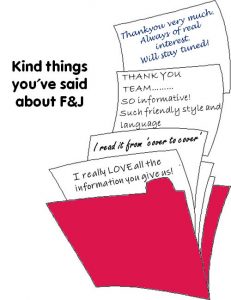 Resources
We're all having to learn new skills with technology, hopefully we can help.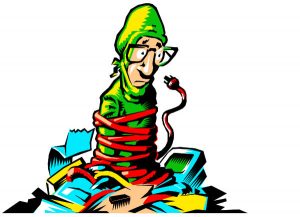 Please don't let it get to you like it got to Joe!
Surrey County libraries – as mentioned earlier the Farnham Library re-opens on 6th July. Details of the safety and social distancing measures can be found here.
If you're after the collection of e-books and e-audiobooks. Available to all Surrey library members – more here
The Zoom Guide below has helped members connect. Feel free to read it and circulate it to others. The guide was updated on 28th May 2020.
Tip for joining an online meeting: please sort out the software and your computer / tablet / 'phone before the meeting. This is because the meeting host can't tutor you during the meeting!
Community Tips
The Town Council, along with the Maltings and the Farnham Herald, has produced a useful fact-sheet full of help and advice for residents of Farnham and villages which is worth printing.  Click here.
About this post:
The Farnham U3A site is found at Farnham U3A Home Page.
Please use this material to help you through the lock-down.
Posted by The MrT Podcast Studio for Farnham U3A – 2020