Message in a Bottle (13)
Welcome to Message in a Bottle (13), the a store for the material in the thirteenth Flotsam and Jetsam e-Newsletter from Farnham u3a.
It doesn't matter if you deleted the e-Newsletter – the important bits are here!
From your editor:
Into Autumn….
Our u3a groups have a great deal to offer this Autumn and, although the 'Rule of Six' is reducing our physical meetings the Zoom option is being embraced by many of us. This enables us to take part in meetings from the comfort of our own homes, no wet weather, hard chairs or carpark worries! I've Zoomed to meetings with over 50 participants that have worked extremely well so it really is an option that we all should be trying.
As our chair, Mike Love, commented 'our lockdown survey showed that two thirds of members found u3a interests and friends a bonus during lockdown, and 60% of those living alone actually coped better than expected'.
If there are any groups that want to give it a go our Mr Groups, Malcolm Ellis on groups@farnhamu3a.org.uk, will gladly put you in touch with an experienced Zoom host.
Editorial upheaval
Flo, the inspiration behind much of the fun in this newsletter, has left our editorial team. She's succumbed to 'lockdown love' and recently got married. So, as she sails 'a Wey' to work on other projects we wish her well. The office seems so quiet now with only an empty chair to talk to…….
The downside? Joe tells me he's having trouble cleaning his face mask since he tried to drink a glass of red wine through it. Still, it filtered out the sediment!
Some may not like postal votes, but our AGM trumps the old way
Zoom allowed this year's AGM to be held on-line. In previous years perhaps 50 members attended a physical AGM, our 2020 digital version attracted 203 votes from the membership. This demonstrates that despite the Covid restrictions and potential technical challenges, the membership is both willing and able to engage with u3a, perhaps now more than ever. Age is no barrier to change!
Your committee
The AGM means that there have been some changes on your committee. This year the new faces are Cynthia Barnett as Membership Secretary and Ian Lapworth as Vice Chairman. We also say farewell to Anne Connolly as she is returning to family in the north.  A set of 'mugshots' for your committee members can be found here.
Website update
In the last issue we told you that a great deal of work is taking place to bring you a new, refreshed website. During the last month rigorous testing has been taking place to discover and squash the bugs. This is all part of the work that needs to take place before it can be released, which we hope will be later this month.
A new look for u3a
Nationally u3a has updated how it presents itself to members and potential members.  A refreshed logo was updated at their recent AGM. You can find out more by clicking on this link or take a look at the website here.
Groups on the Go
Discovering Music
The group is running monthly music quizzes for members whilst they work on the programme for 2021. Here is a recent one:
What connects a guitar with fish.
Name a composer who is permanently housed.
Why is 1685 a significant date (3 please)
Which composer was born 250 years ago.
Who started the Promenade Concerts? (The Proms).
An underwater success from a group of insects?
What do these have in common? A composer of film music and a guitarist?
Which red headed singer lives in Suffolk
What is significant about the number 48 for keyboard players?
Who 'rules the waves"?  Name and sing 3 folk songs.
Done the quiz? Then try to find some music that connects with your answers. There is plenty of variety here to choose from. Members will receive quizzes with listening suggestions each month until January. If you're interested in getting involved contact Ann Vickers at  ann@vickers.plus.com
Grumpy Old People
These two groups are continuing to 'meet' with both regular 'keep in touch' update emails and Zoom meetings once a month on Tuesday afternoons.
We're a discussion group, although we try not to look at politics, religion and Brexit – the three Current Affairs groups do all that really well. We look at things like the service in post offices, the state of the roads, the lack of policemen, places that feel safe to visit amongst other things.
Despite the name we're a happy group and take every opportunity to have a good laugh. At the end of our meetings we decide on the for the next one, so there is plenty of time to get our thoughts together and have a jolly good grumble.
If you feel you would like to grumble with us, just let us know and we will be happy to try to accommodate you, please contact me Michael A'Bear on abear1@btinternet.com
Painting
The group has been hard at work over the summer and is planning two on-line exhibitions to show the work they've done. We'll give you more details in the next issue of F&J for 'Project Work' which is an exhibition by members of Painting Group 1, under the tuition of Gloria Stock. They've undertaken two projects since the beginning of 2020, Simple composition – advanced acrylic technique and Simple landscape – skyscapes. They're keen to show us the results.
If you'd like to revisit their previous exhibitions, or maybe didn't see them, follow this link for the first exhibition and this link for the second exhibition .
Wine for Fun
The 'Rule of Six' has stopped these groups meeting in person. They'll be continuing with joint sessions on Zoom with themed tastings to help members widen their appreciation of the world's wines.
Jane Moberley, leader of Wine for Fun 2, has published Sips and Tips 6. You can read this here.
Group Leaders
Please keep us updated about your socially distanced programme so we can give you a plug here.
Monthly Meetings
Monday 12th October – The Art and Architecture of The Silk Roads – Alan Freeland
In this talk Alan will highlight the art, design and architectural motifs that travelled along the Silk Roads. It's like taking a magic carpet ride from China to Iberia, looking for attractive artefacts, entertainment and fascination, rather than a camel ride with a merchant caravan looking for knowledge and profit.
Monday 9th November – Air Traffic Control – Peter Tomlinson
Our lives depend on them as we fly through the air – so how does Air Traffic Control work? And what do the Controllers do?
To join a monthly meeting via Zoom
Please send an email with the subject line "Monthly Meeting" to the Events team at events@farnhamu3a.org.uk. No other message is required. The link, with the meeting ID and passcode, will be sent to you. First come, first served.
u3a radio – podcasts
u3a radio launched recently. The national office learning team have worked with members  skilled in broadcasting to create this new series of podcasts. The pilot features interviews and features from across the movement themed around looking forward. If you have an interesting story to tell – get in touch – please email us at communications@u3a.org.uk
Find the podcast here.
Culture and more
Farnham Maltings
During the lockdown the Maltings was a key part of the support effort in our community with help given to people stuck in their homes, the lending library of games books and toys, and much more.
This rendition of Food, glorious food is by the FAOS and can be found here.
The New Ashgate Gallery
The gallery has frequent exhibitions of arts and crafts and, like the Maltings, Farnham Pottery and the University of the Creative Arts, is a key part of Farnham's creative landscape recognised by Farnham becoming a World Craft City. Their current exhibitions include:
Painting in Farnham
Crafts with the Local Heart – Autumn Craft Collection
CHICKPEA by Harriet Grist – a Festival of Crafts winner
Celebrating 45 years of the Designer Jewellers Group
Craft Town Public Art Commission – The Farnham Sculpture by David Mayne
Find out more here.
The London Transport Museum
Joe visited the London Transport Museum in Covent Garden last week to see the effect of Covid 19 on an interactive space. You've got to book in advance so that they can control the number of visitors. They'll ask you for contact details for Track and Trace and you have to follow a set path.
The exhibits are as before although some of the interactive exhibits have restrictions, for example you can't sit in the old carriages because the spray needed for C-19 would damage the fabric. However, Joe found that he was competent to drive a Thameslink train without crashing it. You'll find more details here and if you want to book please use this link to find a slot.
More from the scammers
Our thanks to Which? magazine.
Government Grant phishing email scams
With new coronavirus advice being announced regularly it's no surprise that a fake email purporting to be from HMRC is circulating, telling people they're eligible for a 'government grant'. Emails like this are especially dangerous when they manage to make it past spam filters.
You can find more information here.
British Gas phishing email
An email purporting to be from British Gas was sent to one of our readers
informing him that he owed £2.01 on his gas bill. It attempts to extort the recipient's account details by urging them to click a link to log in and pay.
Follow this link to avoid it.
Pension savers are hot targets
More than £30m has been lost to pension scammers since 2017, with pots worth from £1,000 to £500,000 being targeted. This is usually down to savers not knowing how much is in their pension pots and people unable to spot the signs of a scam. Find out more here.
Norton LifeLock advice
The internet security company has published some information and tips about tech support scams.
There are three main ways this scam is executed – cold calls, pop-up messages on the computer and incorrect search engine results.
You can find out more, and how to avoid being scammed here.
Our thanks to Norton LifeLock and Which? Magazine for the information provided here. Be Wary and Keep safe!
completely different.
Remember, if it sounds too good to be true it usually is – report anything that looks like a fraud or a scam to Action Fraud online or phone 0300 123 2040
Resources
We're all having to learn new skills with technology, hopefully we can help.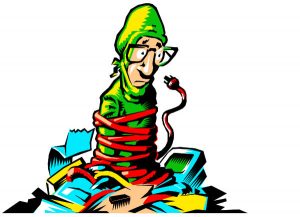 Please don't let it get to you like it got to Joe!
Computer access is now available at Farnham Library. They're available between 10.00 a.m. and 3.45 p.m. Scanning facilities are not currently available.
Please note that there is no walk up service – you must pre-book your session either on-line or by telephone. Find out more here and scroll down to find the Guidelines for Computer Usage.
If you're after the collection of e-books and e-audiobooks. Available to all Surrey library members – more here
The Zoom Guide below has helped members connect. Feel free to read it and circulate it to others. The latest update of the guide was updated on 28th May 2020.
Tip for joining an online meeting: please sort out the software and your computer / tablet / 'phone before the meeting. This is because the meeting host can't tutor you during the meeting!
About this post:
The Farnham u3a site is found at Farnham U3A Home Page.
Please use this material to help you through the lock-down.
Posted by The MrT Podcast Studio for Farnham u3a – 2020