Podcast: Play in new window | Download (Duration: 17:54 — 16.4MB)
Episode 9 – Bare and Fair
Welcome to Bare and Fair, a podcast made as part of the Surrey's Greener Future initiative.
February 2020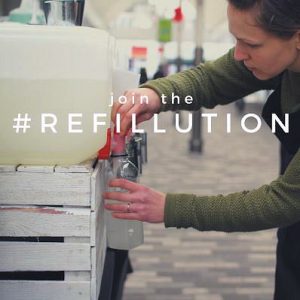 I meet Mel, a driving force behind Bare & Fair, on a cold, wet, February day in Woking, because of this we retreat to the Café at Christ Church in the town centre for a coffee and interview.
Mel explains how she and her family started trying to be more environmentally friendly. Their first action was to reduce waste and, because of their efforts. they reduced the amount in their bin by 50% in 6 months.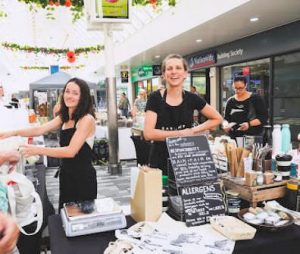 Next – Bare and Fair. A market stall in Woking market every Saturday selling environmentally friendly products. Much of what they sell are environmentally friendly cleansing products. They couple this with a policy of refilling cleaned, used, containers because this further reduces the environmental impact.
We finish the interview by looking into the future, a future then severely impacted by 2020!
Post lockdown, now reopened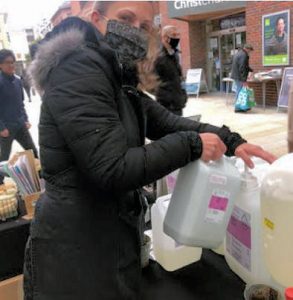 I 'phone Mel once they've been open for a few weeks post lockdown.
We talk about how the pandemic has changed the business.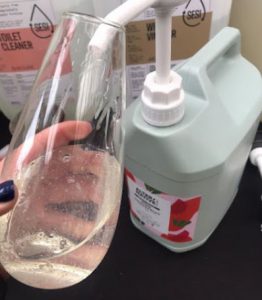 During lockdown the market stall was closed and so they started deliveries to customers.
Mel tells me how things are going now and, because of the growth in home deliveries, they've appointed a delivery company. The products are delivered by pedal bicycle – good exercise as the orders can be heavy.
We talk about the extra cleaning requirements required today, Mel says they have now become second nature.
I ask whether there are are any issues with reused containers being refilled. Mel tells me that there has been some research into this. Properly cleaned there isn't an issue.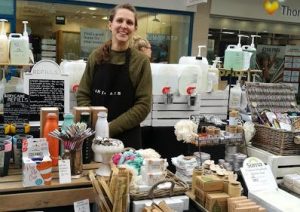 SESI – supplier to Bare and Fair
The final part of the podcast I talk to Rina and Paul at SESI, a supplier to Bare and Fair. They tell me about the products that they supply and how they supply them to stockists. We discuss their environmental credentials. I find that some of the products that they sell are both natural and very traditional.
Please note: in some places there are issues with the sound quality from the mobile 'phone and you will need to listen carefully!
Contact information:
Bare and Fair:
Bare and Fair's website is here.
Their online shop for deliveries in the Woking area is here.
The contact form for Bare and Fair is  here.
SESI:
To contact the SESI team please email inbox@sesi.org.uk – you'll need to copy this into your email client.
Find out more about Surrey's Greener Future:
To find out more follow this link.
The 'Surrey's Greener Future' podcasts:
Join us for the next podcast in this series which will be published soon.
Please use any of the material in order to support your own initiatives to Combat Climate Change because each of us really can make a difference!
In addition to this web-page this podcast is available on Amazon Music, iTunes/Apple Podcasts, Castbox, Deezer, Podchaser, Spotify and Stitcher.

AKM Music has licensed Perfect Circle for use as the theme and for use as incidental music in this episode.
The photographs used in this podcast are used with the permission of Mel Hemmings.
© The MrT Podcast Studio 2020